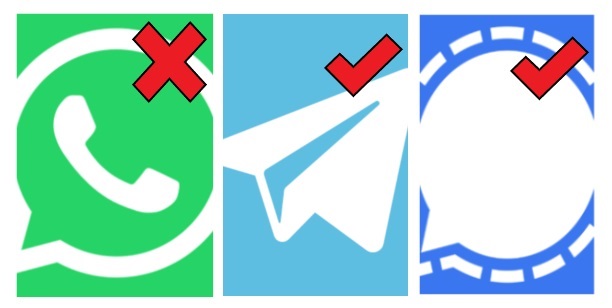 Everyone is talking about WhatsApp and their new policy update which users must accept if they want to continue to use the popular messaging app. This new update allows WhatsApp to share some user data with its parent company Facebook. This has spread fear in many WhatsApp users causing them to delete the application and change to another messaging app.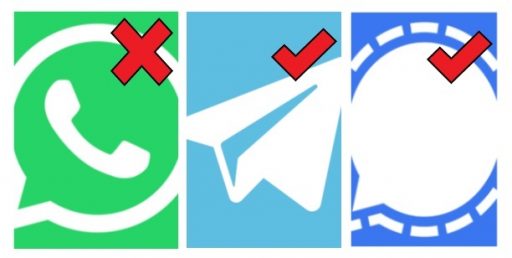 Facebook and WhatsApp:
When talking about data collection, Facebook does not have a good reputation and so it is understandable that WhatsApp users are concerned about the new update. The situation has been made worse by WhatsApp because it has not been clear about exactly what the new policy update means. WhatsApp have now confirmed that the content of messages will still remain end-to-end encrypted so that none of Facebook or Whatsapp or the authorities can see this content. However the discussion that has resulted in the media has highlighted that WhatsApp continues to collect a large amount of metadata (such as who sent the message and where and when) from its users. This has caused many people to panic and to change to a different messaging app.
Alternative apps:
The app that might have benefited most from the WhatsApp policy update is Signal. This is understandable as Signal has many similarities with WhatsApp. Many users have also moved to Telegram. Signal benefits from end-to-end encryption but also there are some issues that users might want to consider when choosing a new messaging app. There are of course other messaging apps that can be found but in this article we discuss and compare these two apps, Signal and Telegram.
End-to-end encryption: With end-to-end encryption of messages, Signal is highly rated by security professionals. The protocol built by Open Whisper Systems is also open source and can be inspected. There have been some reports that the protocol used by Signal, and later  WhatsApp, was funded by the US government and so might have some security issues, but it is hard to know the truth behind this.  The reason that Telegram does not offer end-to-end  encryption is probably because it uses a cloud-based architecture. By default Telegram will encrypt between your device and its cloud, and between the cloud and your contact, but content stored on the cloud could be visible. This is sometimes called server-client encryption. Also the protocol used for encryption is not completely open source, so cannot be completely inspected and tested. However, Telegram does provide "secret chats" which do have end-to-end encryption (client-client encryption) between two devices of two users – and this is the type of message that most users want to encrypted. Both Telegram and Signal offer additional security measures such as 2 factor authentication (2FA) and self-destruct messaging.
Usability of app: The cloud-based architecture of Telegram gives it a benefit over Signal for usability – Telegram stores messages on the cloud giving the convenience of 'multi-device sessions' so that you can access everything from anywhere (as many devices as you want all at the same time) and the chats will sync instantly. A Signal account for example can only be used on one mobile device. Both apps have shown little downtime over recent years, and both have a good record on security issues. In December an Israeli security company claimed that they had cracked Signals encryption, but Signal denied this. An advantage of Telegram is that it has channels for 'broadcasting' whilst Signal does not have broadcast capability. Like Whatsapp, both Signal and Telegram allow audio and video calls.
Questions over Signal's funding: There are some fears over the funding of Signal. It operates as a non-profit organization and offers its services for free. Some people have questioned how this business model can continue especially with the recent increase in users, suggesting that there might be a unidentified person or organization behind the funding with access to the data. If it is really an honest business model, then there is instead a question of how long it can continue before being sold to a company that might be more happy to collect user's data.
Hiding your phone number:  Signal works like WhatsApp – it uses  your phone number as your identity, so you can see the phone numbers of your contacts. This is a problem for some users as clearly telephone numbers can be used to reveal information about the owner to other users and sometimes the authorities. Also Signal notifies users when a contact on their phone creates a Signal account, which might not be desired. In Telegram a user can chose not to display their number – users add contacts through their username and can click the settings menu to hide their number from all other users.
Telegram links to Russia: There has been rumors that Telegram has links to Russia. Although the co-founders are Russian, the company development team is located in Dubai and the fact that the app has been banned in Russia and there are no offices or servers located in Russia, indicates that these rumors are not true. Actually the app was first set up for anti-government protestors – so it is a platform that works hard to keep government and security agencies away from its data.
User numbers: The number of users for both Telegram and Signal is increasing fast. Signal numbers recently increased significantly when the US Tesla CEO Elon Musk (@elonmusk) tweeted to "Use Signal". However with about 525 million monthly users, Telegram still has a lot more users than Signal – this means it is more likely that your friends use it!
Availability of apps in Iran: Recently the government ordered the removal of Signal from local application stores after the decision that it contained examples of "criminal content". This is probably a move to slow down the recent increase in Signal users and given the long history of censorship of messaging apps in Iran, this is not a surprise. There are reports now that the app is actually being blocked by the authorities so it appears the app is to follow the direction of Telegram which was blocked in 2018. Despite these actions many Iranians continue to find ways to use Telegram and the same is expected for Signal.
ICNA opinion:
In our opinion Signal and Telegram are both good alternatives to WhatsApp. These companies seem to have the trust and respects of their users that WhatsApp now has lost.  Signal offers the best overall encryption and a more similar service to WhatsApp for those users who do not like too much change. However questions remain about funding and US government involvement in the encryption protocol used. Also if you are concerned about your phone number being displayed then Telegram is the app for you. Telegram probably also has overall better usability and the greater number of users means more contacts to message!
We remind our readers to use the official Telegram app and not a Telegram fork (read our article warning about Telegram forks – irancybernews.org/global/1189/). We suggest that readers also be careful of any Signal forks that soon might be created.
Links:
core.telegram.org/techfaq
support.signal.org
The ICNA Telegram channel is t.me/News_ICNA