Hooshyarane expose companies working with Mahan Air, IRGC-QF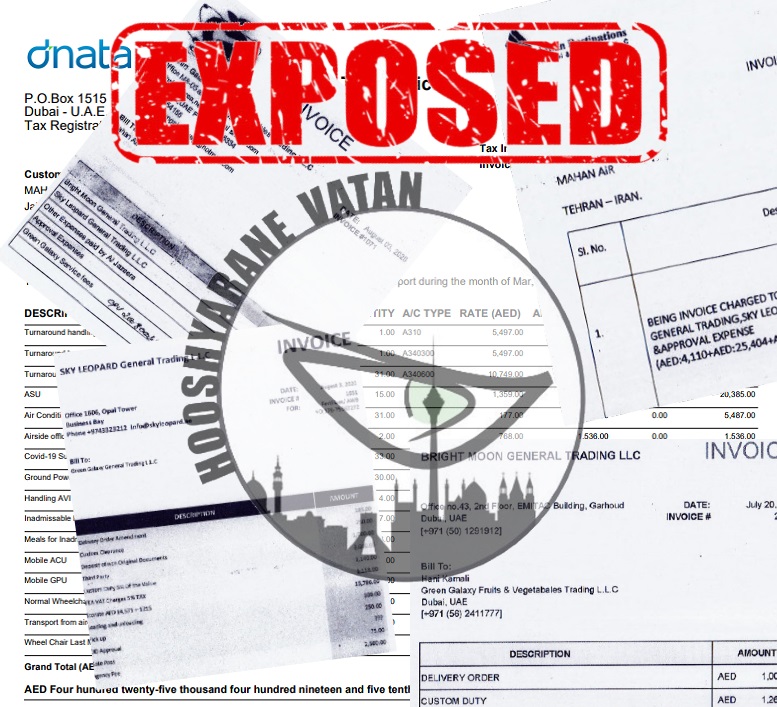 Hooshyarane Vatan releases incriminating evidence of Mahan air and IRGC partnership
Since late November the hacking group Hooshyarane Vatan has continued their campaign of outing the dangerous and illegal partnership between Mahan Air and the IRGC Quds Force. The group has hacked into Mahan Air computer networks and exfiltrated a mountain of incriminating information that proves the deep relationship between the two organizations and have been releasing this evidence on their Telegram channel nonstop for weeks. Now the group has shifted their attack to outing western companies and organizations who knowingly work with Mahan air.
To learn more about the group, visit our previous article on Hooshyrane Vatan.
western companies implicated in aiding Mahan Air and IRGC-QF
The afternoon on 29 November the group had seemed satisfied with the proof they provided of the tightly knit relationship between Mahan and QF and decided to shift their focus into the wider ecosystem within which these two organizations operate their export of the Iranian regimes politics.
On the Telegram the group stated:
Following the proof of Mahan's cooperation with the IRGC QF from our previous exposures, it is now time to shed light on some of the companies who cooperate with Mahan. Especially those that are based in seemingly "legitimate companies".
The group claim they have found many invoices, receipts and contracts between Mahan and companies based in countries that should be adhering to US sanctions and are instead working around them. The countries are located in Europe, India, the UAE and more. Below are some of the countries found to be working with Mahan, fueling the IRGC QF export machine.
Companies illegally working with Mahan
Location: Dubai
Company: Dnata
Evidence: The group has leaked receipts where Dnata has billed Mahan Air for pallet loading and cargo storage, through what the cargo consists of is yet to be known but we do know Mahan routinely carries dangerous goods for the QF on commercial flights full of passengers. This company also has several offices listed across the United States according to their website.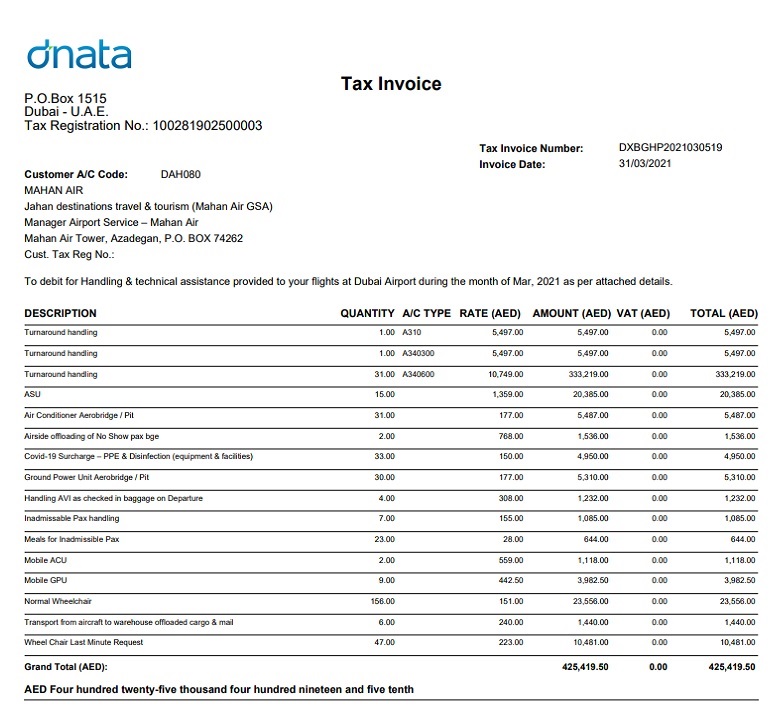 Location: Dubai
Company: Jahan destinations travel and tourism
Evidence: This company is designated by the USA for working with Mahan Air though Dnata has been accused of working with both Mahan and Jahan. Jahan operates a few front companies to make payments without the rist of US sanctions for their business partners. Specifically, Bright moon general trading, sky leopard general trading, and green galaxy fruits and vegetables trading LLC are all listed as front companies used to avoid sanctions.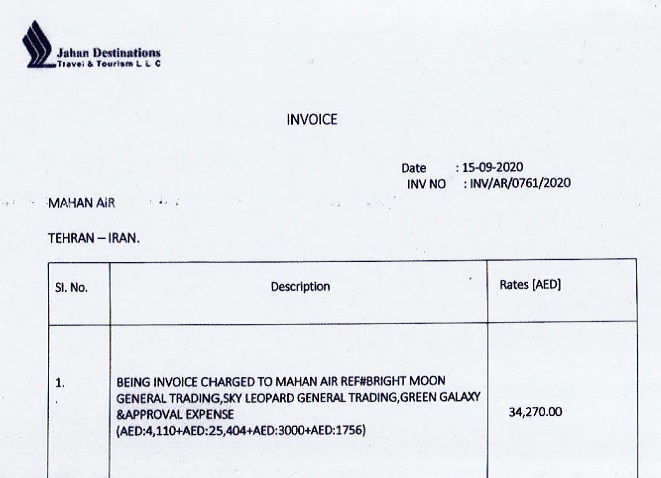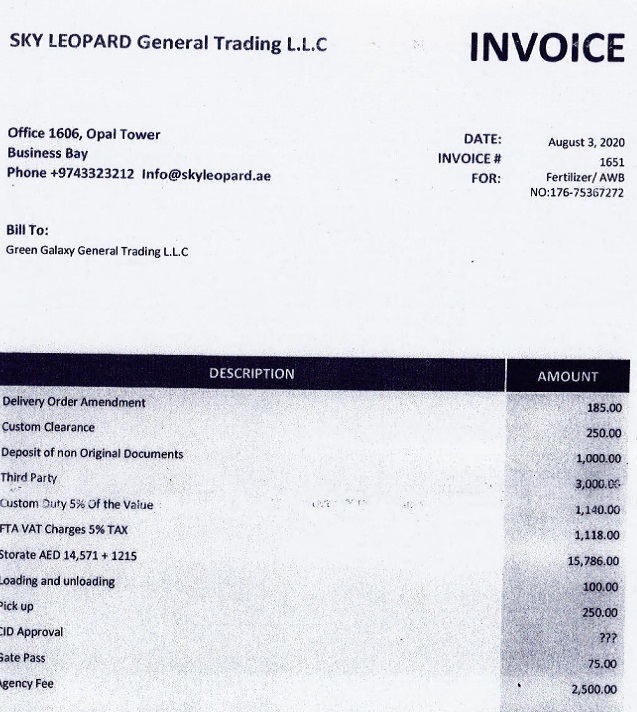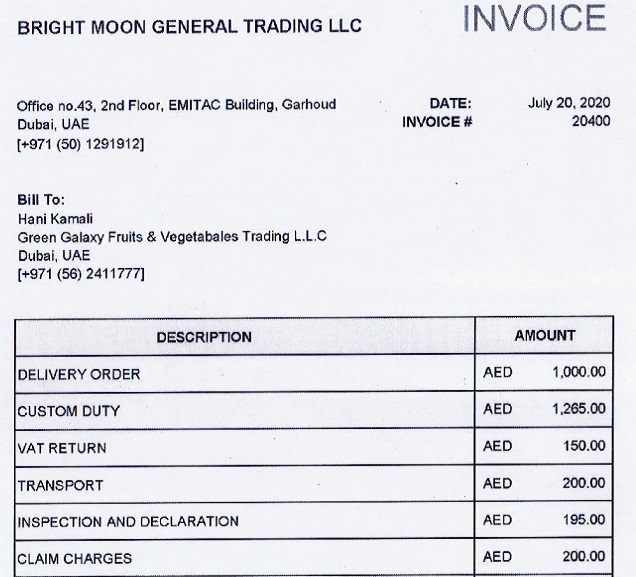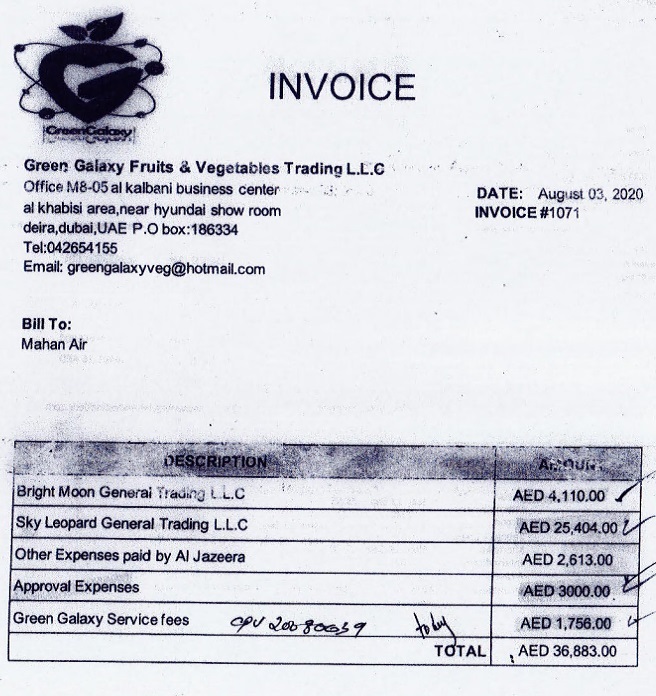 Location: Germany
Company: AIRPASS GmbH
Evidence: Hooshyarane Vatan have released several emails from Airpass director Rudiger Knewitz who is also the CEO of APG Germany. The emails point to the likelihood that APG many be used as a front company for working with Mahan to evade US sanctions. In one email Rudiger explains how his employees have been re-listed as APG employees
More revelations
The groups Telegram channel goes on to list many more companies with email evidence including Danish company Khyber, Indian company Maidenhead, several Emirate Mahan agencies and a large list of Mahan agents operating in western countries such as France Sweden Spain and Italy.
For a full listing and incriminating evidence visit the groups Telegram channel or their Twitter account @hooshyaran1.