Iran traffic police (Rahvar) latest victim in a string of attacks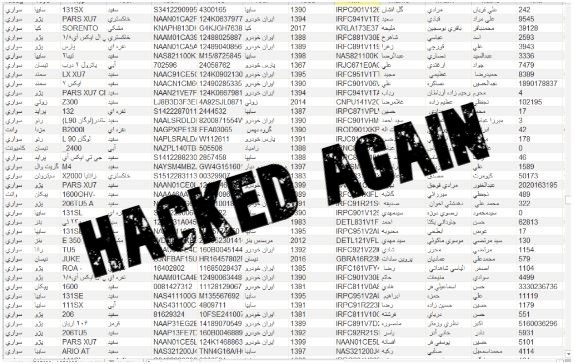 Another successful hack?
The Telegram channel @NMAToday reported that over 14 million vehicle profiles from within Iran have been leaked from internal servers within the Iranian traffic police (Rahvar) databases.
where the Rahvar leak was discovered
The Cyber intelligence group The Cyber Shafarat have also reported on the leak, referencing a Raid Forum post created by a user with the name of SnakeEyes however when ICNA attempted to verify the leak on Raid Forums we were able to find the user but were unable to find the post regarding the Rahvar leak leading us to believe the user got nervous and deleted the post, or the admins of Raid Forums deleted the post.
what was stolen
The Rahvar data leak was said to include motorcycles and private, government, public and industrial vehicles. It makes us wonder if perhaps there was sensitive government or commercial assets listed in this leak and some government of private entity decided to pay the hacker their price and thus this is why the post is now unviewable.
The data leak included extremely detailed and private information including plate number, details of the vehicle including color, type, system, as well as personal details of the owner including first and last name, fathers name, birth certificates, owners national ID, birthday, and phone number among many other things. below is a list of column headers that was said to have been included in the leak:
Plate Number – شماره پلاک
Car Usage – کاربری خودرو
Car System – سیستم خودرو
Car Type – نوع خودرو
Car Color – رنگ خودرو
Car Body Number – شماره بدنه خودرو
Car Motor's Serial – شماره سریال موتور
Car Company – کارخانه تولید کننده خودرو
Car Build Year – سال ساخت خودرو
Car VIN – شماره وی آی ان
Owner First Name – نام مالک خودرو
Owner Last Name – نام خانوادگی مالک خودرو
Owner Father Name – نام پدر مالک خودرو
Owner Birth Certificate Number – شماره شناسنامه مالک خودرو
Owner National ID – شماره ملی مالک خودرو
Owner Birth Day – تاریخ تولد مالک خودرو
Owner Phone Number – شماره همراه مالک خودرو
Owner Home Tel – شماره تلفن منزل مالک خودرو
Owner Full Home Address – آدرس دقیق مالک خودرو
Car judicial orders – دستورات قضایی صادر شده برای خودرو
Car judicial orders Type – نوع دستورات قضایی
Car judicial orders Date – تاریخ دستورات قضایی
Car judicial orders Description – شرح دستورات قضایی
Rahvar leak another piece in an unsettling trend
this is another piece of evidence in the growing pile of cases where hackers who are successfully hacking Iranian state institutions and departments. Some of the hackers have been simply looking for a quick sum of payment, and others are overtly political in why they are attacking but look at these incidents together paints a worrying picture for Iran. The country is increasingly positioning itself as a target who is full of holes and easy to attack.
In our previous article we outlined the clear direction that hacking in Iran is increasing. Some of it is due to people simply needing to make a living and much of it is suspected to be sponsored by the state however the question that needs to be asked is whether the Iranian regime is equipped and prepared to meet the push back that comes with hacking on an international level? when we look at the recent hack of the national rail system, the hack of Evin prison announced just today, and now this massive data breach of the traffic police database my dear readers it appears the answer to the question is no Iran is not prepared to face the consequences of its actions.