Offsec Hacking & Security Conference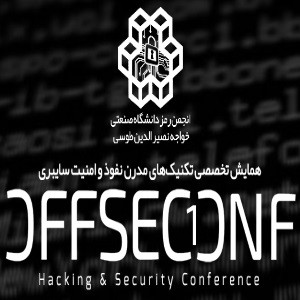 Cyber security research group Offsec will be running a hacking and security conference in Tehran.
The conference is on November 14 2016 from 13:00 to 15:00 at the K.N.Toosi University of Technology, Tehran.
There are speakers at the conference who have previously presented talks at DEFCON and Blackhat in the USA.
Offsec conference members include:
Amir Rasouli -CERT Center, Mashad Ferowski University–
Ali Razmju -IR OWASP Chapter Leader, Blackhat and DEFCON invited speaker-
Babak Amynazad -Former CERT Center advisor, Central Bank of Iran–
Mehdi Rezaei -Conference secretary-
Abbas Naderi -University of Virginia -USA-, Blackhat and DEFCON invited speaker-
Mohammad Jorjandi -George Mason University -USA-, Former security advisor to Central Bank of Iran
Offsec social media contact details:
Instagram: https://www.instagram.com/offsecmag/
Twitter: https://twitter.com/offsecmag
Facebook: https://www.facebook.com/offsecmag
Telegram: http://telegram.me/offsecmag