Nepal President Website Office Hacked By Dr.3v1l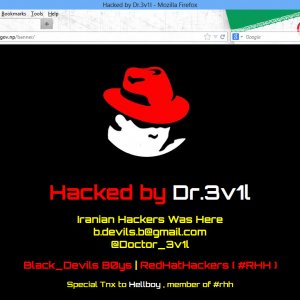 Iranian hacker Dr.3v1l made defacement and database hack on Nepal President website http://presidentofnepal.gov.np.
Dr.3v1l defaced website and accessed /etc/passwd file to make hack on website database. Dr.3v1l dumped full database online.
Dr.3v1l is member of Iranian security teams Black_Devils B0ys and new RedHatHackers #RHH.
Defacement message by Dr.3v1l was:
——————————————————————————-
Special Tnx to Hellboy , member of #rhh
Iranian Hackers Was Here …
——————————————————————————-
Defacement mirror can be seen here: