Linux Professional Institute Has LFP Bug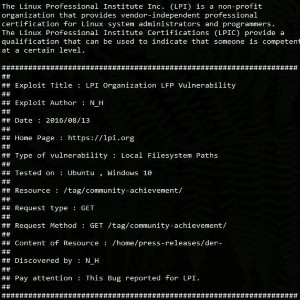 This filesystem vulnerability in website of Linux Professional Institute Inc. (LPI) was discovered by Nafiseh Hosseinzadeh under the name N_H and she reported her discovery on reputable foreign website CXSecurity.com. In many other countries including U.S. and European countries work of women in the sphere of hacking is often not noticed or they are not able to work in this sphere at all. We are proud that in Iranian community brothers and sisters can all work and show vulnerabilities in insecure websites. We hope with ever more shining participation in this field women will make our contribution to this work and in all fields related to I.T. and hacking bigger than ever.
This vulnerability reminds that even companies and organizations that should have good security must improve their security in order to prevent loss of reputation.
Link to prove: https://cxsecurity.com/issue/WLB-2016080126