IEDB Discover Cross-Site Scripting Vulnerabilities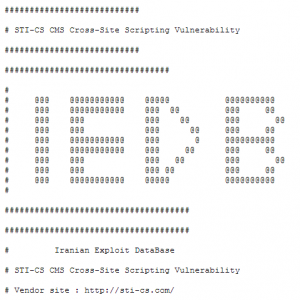 Security team IEDB – Iranian Exploit DataBase – discovered Cross-Site Scripting Vulnerabilities in two CMS software.
STI-CS CMS – http://sti-cs.com/ – and ehsanweb CMS -http://www.ehsanweb.com – have vulnerability discovered by Amir.
Cross-site scripting – XSS – is a type of computer security vulnerability typically found in Web applications. XSS enables attackers to inject client-side script into Web pages viewed by other users. A cross-site scripting vulnerability may be used by attackers to bypass access controls.
Message from IEDB was:
##################################### # Greats : Bl4ck M4n – ErfanMs – 4ntr4x – N20 – Bl4ck N3T – dr.koderz – Enddo – E1.Coders – Behnam Vanda # E2MA3N – l4tr0d3ctism – H-SK33PY – sole sad – r3d_s0urc3 – Dr_Evil – z3r0 – 0x0ptim0us – 0Day # Security – ARTA – ARYABOD – Mr.Time – C0dex – Det3cT0r – yashar shahinzadeh – Khashayar # tootro20 – AmirMasoud And All Members In IeDb.Ir/acc #####################################