Ashiyane Deface Thailand Ministry Of Education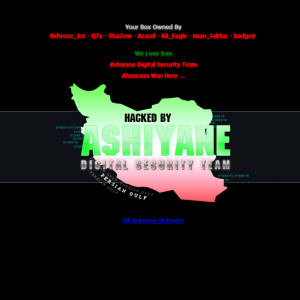 Iranian security team Ashiyane Digital Security Team made defacement on Thailand government Ministry of Education website.
Website http://kalasin.nfe.go.th defaced by Ashiyane team member Ahooraxx yesterday. Defacement mirror is http://zone-h.org/mirror/id/22747081.
Ahooraxx defacement message was:
Your Box Owned By
Behrooz_Ice – Q7x – Sha2ow – Azazel – Ali_Eagle – iman_taktaz – badguy 
We Love Iran
Ashiyane Digital Security Team
Ahooraxx Was Here …
Ahooraxx defacement is made after Ashiyane members defaced other Thailand government websites. On 31 July Ashiyane member Milad Hacking deface 28 Thailand government domains. Full list of government domains is http://zone-h.org/archive/special=1/notifier=Ashiyane%20Digital%20Security%20Team/.